American Dreamspace - Sunroom Options
Custom sizes and pitches are no problem with your Dreamspace and are offered at no extra charge for your Dreamspace Patio Enclosure or Sunroom. Custom Dreamspace Patio Enclosures and Sunrooms also feature a wide variety of exciting options including Super Peak Performance™ triple-glaze insulating glass, Grids in various styles, DreamGlas decorative glass panels, Electric-Ready Chaseways, Double hung, Sliding windows and even Bay windows! Ask one of our representatives for more information.
Roof Options
Star-Gazer II Skylights come standard with Easy Clean Glass

Choose fixed or operable units. Features Peak Performance™ Tempered Safety Glass with Low-E and Argon Gas

Extruded Integral Gutter System offered at no extra charge!
6.5" Roof Panels with insulating value of up to R-40
Enhanced roof panels with OSB allow you to shingle your sunroom, matching your existing roof and you get to choose your ceiling material!
Glass Options

Dreamspace Patio Enclosures and Sunrooms are constructed of Thermal windows and patio doors that can qualify for the Energy Tax Credit and Energy Star® Program when specified with one of our high-performance Low-E and Argon or Krypton gas enhanced insulating glass packages.
Window Options
- Glass Kick Panels, transom glass over your windows and trapezoid shaped windows are available on all Sunrooms and Patio Enclosures.
DreamGlas
- Capture the distinct textured look of decorative glass in an insulating window or door. Select from Jewel Cut, Color and Came styles to give your Dreamspace a shimmering and colorful decorative touch.
Other Options
Electric-Ready Chaseway
- Enables you to enjoy the comfort and convenience provided by this unique feature. This system enables you to add wall outlets, light switches, ceiling fans, decorative lighting and heating or air conditioning to your Dreamspace.
Decorative Wall Coverings
- Select from a wide variety of patterns to enhance your home's decor.
Luran ASA
- a durable alternative for your enclosure's interior and exterior walls. The Luran panel will not dent or scratch, assuring a long lasting, beautiful enclosure.
Thermo-Dek
- An optional deck on which to build a Dreamspace Enclosure, that has an insulating R-Value of 17.0. It is extra strong and resistant to heat and cold. Thermo-Dek is also available with insulating values up to R-45.
Sunroom Options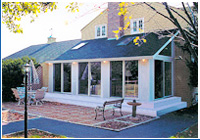 Sunroom with enhanced roof panels and shingles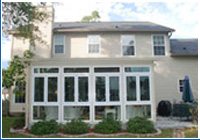 Sunroom with optional glass kneewalls and glass transoms over sliding window units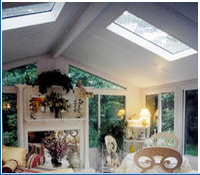 Gabled sunroom with optional fixed skylights